OutRyders is New England's largest LGBTQ+ ski and snowboard club. We're all about great friends, active mountain fun, and exceptional times together at area resorts and off-mountain social events (with some significant trip discounts too!) Learn more in our big 2022-23 Season Announcement!
OutRyders, formed in 2001, is a non-profit, all volunteer-run organization. Become a part of this great group - please visit the OutRyders Membership page to join.
Why Join Outryders?
---
Anyone who has a passion for skiing or boarding in the mountains and is LGBTQ+ or an ally should join Outryders. We work diligently to create social and skiing or boarding events that provide great opportunities for outdoor activities and getting to know others.
Those that have attended any of our events or ski trips will attest that we love to ski and we love to have fun. We are a non-profit, volunteer-run organization that is the largest LGBTQ+ ski and boarding group in the Northeast. 
Come join us on one of our trips to the wonderful mountain areas of New England and you can find new friends, fun times, and great outdoor activities.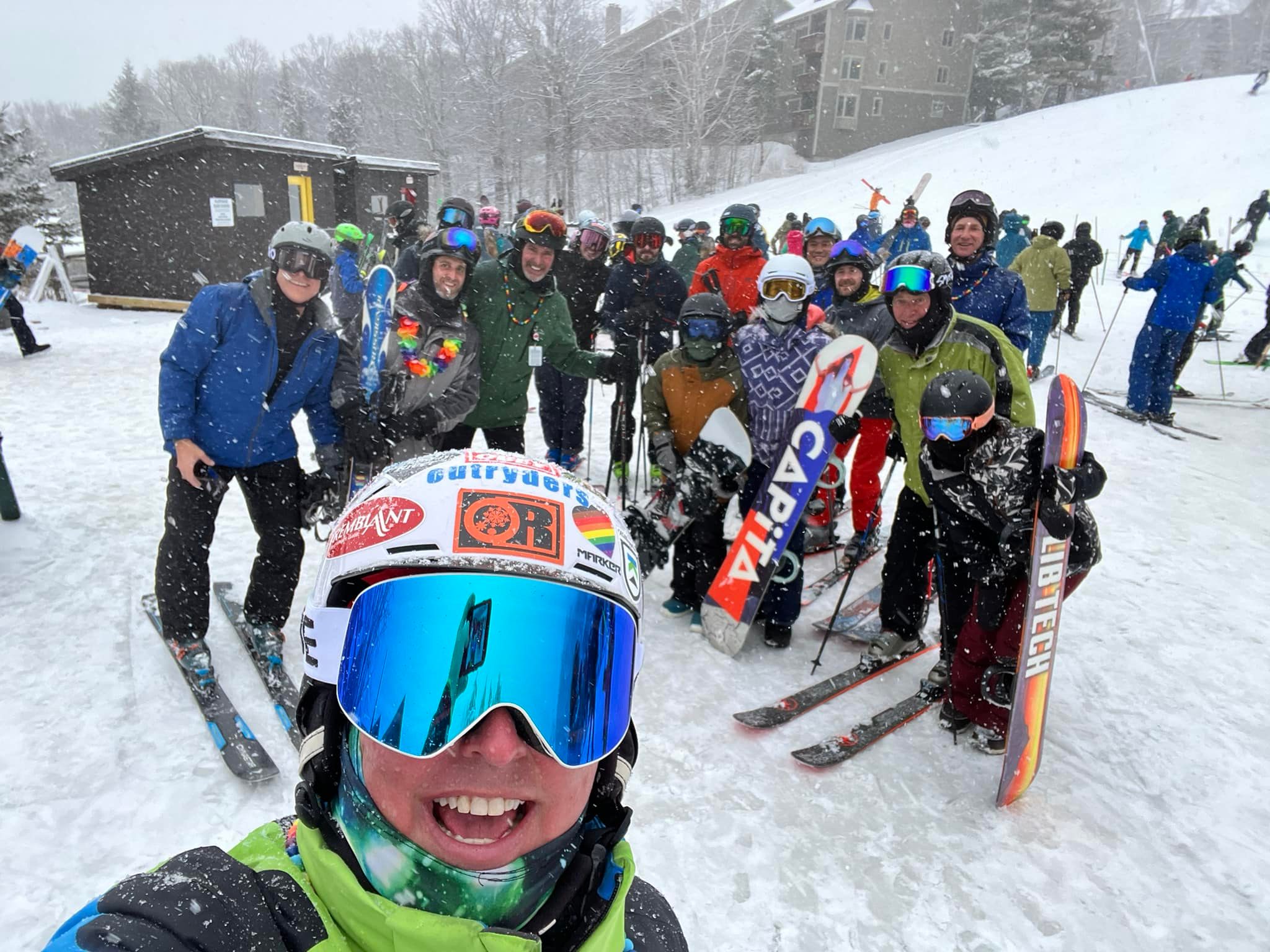 Board Members
---
Outryders is a LGBTQ+ New England skiing and boarding organization founded by and run by 100% volunteers. We strive to do our best to not only do the important work of operating the group, but be responsible to help it be a welcoming and open organization. And most of all, the Board strives to make Outryders be fun, fun, and FUN! Meet the Board.
Trips
---
Each year, Outryders schedules many many local and overnight trips to some of the best ski areas in New England and other great resorts across North America. Join the club and check out the calendar to see all of the amazing trips we have for the 2022-23 ski and boarding season. (For just a teaser...we are planning a trip to Canada and one out west!) See our trips.

Members
---
Outryders has more than 600 people signed up for our newsletters. We want to provide opportunities for LGBTQ+ people to ski and board, meet, and have fun.